Haven't seen my uni girls for a while, so I travelled up to Leamington to meet up with them :) The weather was so odd - one minute the sun was beaming away and the next it was crazy raining, so I went safe with my Black Milk leggings and cherry red Dr Martens with my trusty jacket. These Docs are a gift from the fates as my squeeze's mom had acquired them recently to sell on, but she'd thought about me when she got them and they just so happened to be in size three, how lucky!!
I've not had much luck in the past with Dr Martens - I accidentally left my first pair outside and they were chewed up by a mouse and my amazing purple ones were dangerously over-worn and practically fell apart. I'm gonna be extra specially careful with these :3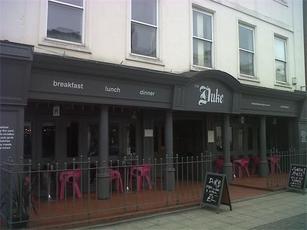 Gaming booths
We had lunch in this fantastic pub called The Duke, which honestly, put our local Wetherspoons to shame. It was so stylish and funky, and the food was amazing and surprisingly cheap, my chips actually tasted like potato! Not to mention that they also featured booths with ps3, Xbox and Nintendo Wii consoles. Wowsers. Why don't I live here? Even the bathroom was stylish - I had to pose on this awesome chair. Surely Black Milk will be considering me for a model now. Of course :') Note the toilet in the background - so classy, righ'?
So if you're ever up in Leamington Spa, visit The Duke, now my most favouritest pub evaaaar.
Jacket - Peacocks
Tee - Apple Bottoms
Leggings - Black Milk
Boots - Dr Martens